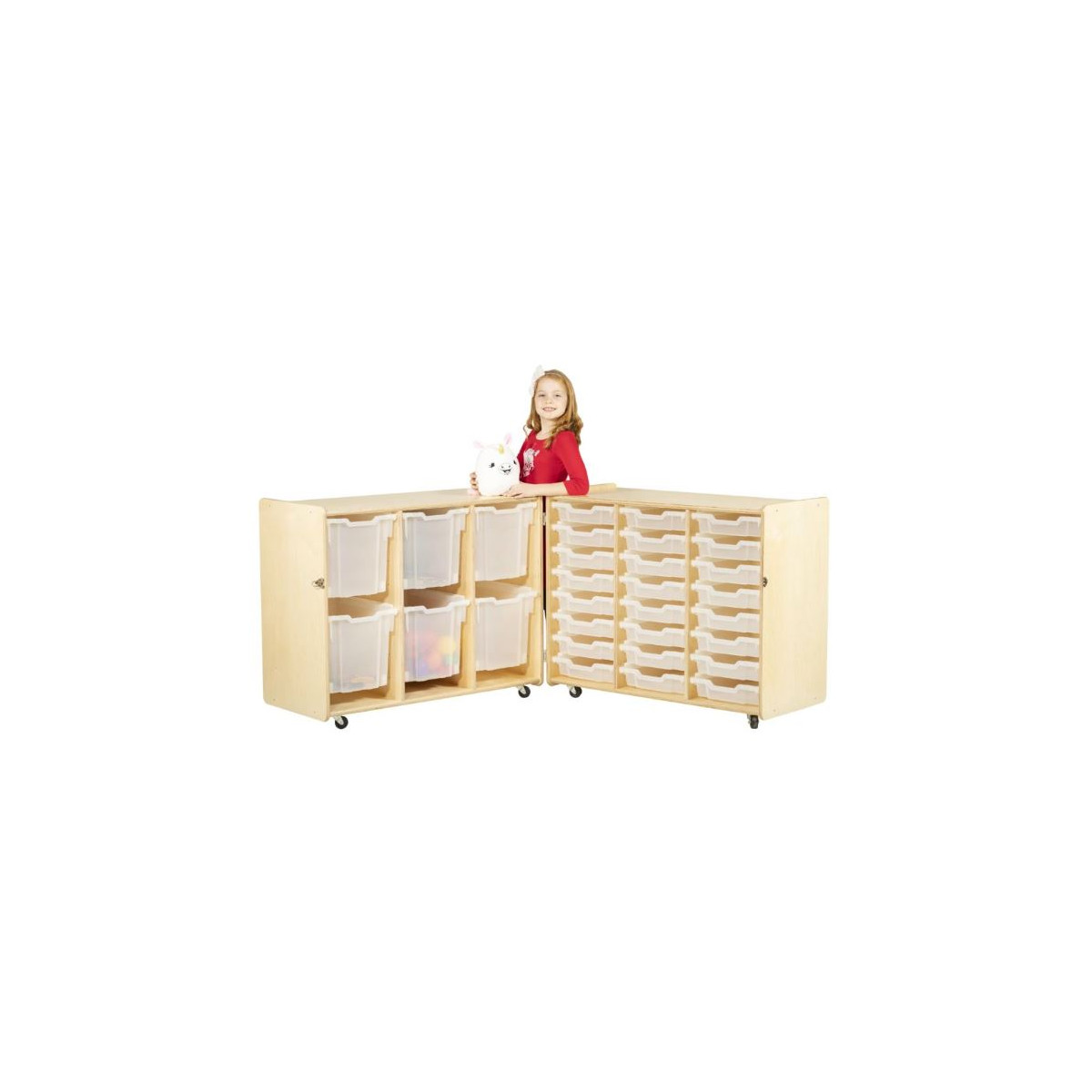 ---
Product Media
Hinged Tote-N-Store Interchangeable storage tray cabinet^
Product Number: SW-1325/1325
This item requires additional freight charges.
Odd sized/weight package.
May incur extra shipping charges due to package size/weight.
Hinged Tote-N-Store cabinet made of 3/4" Baltic Birch. Each unit comes on 2 locking and 2 non locking casters. Fully assembled. Each combo unit is linked by a hinge at one end and has a locking mechanism to join and store out of site at the other end.
Interchangeable hinged unit (bins purchased separately) 
 Clear/translucent trays shown are not included. (Trays are available in clear, red, blue, yellow and green by special order only) 47 x 18 x 33.5 x 2
***Cabinet only - trays sold separately***
Made of 3/4″ baltic birch. Unit comes with beautifully rounded corners. Two separate units come with a locking clasp system to close when required in the classroom. Can purchase bins in any combination to fit your classroom needs, or can purchase the S1325/J1325 (H) with the bins already included in the cost. Each bin is sold with a pair of tracks. Comes on 2 locking and 2 non locking casters. A kick plate has been placed on the front of this unit to hide the casters. Some assembly required (locks only). Ages 1 +.
If you require a specific bin count that is not listed, please contact us. 1-877-942-5179 
Dims – 47″ L x 18″ W x 33 1/2″ H (x2)
No customer reviews for the moment.