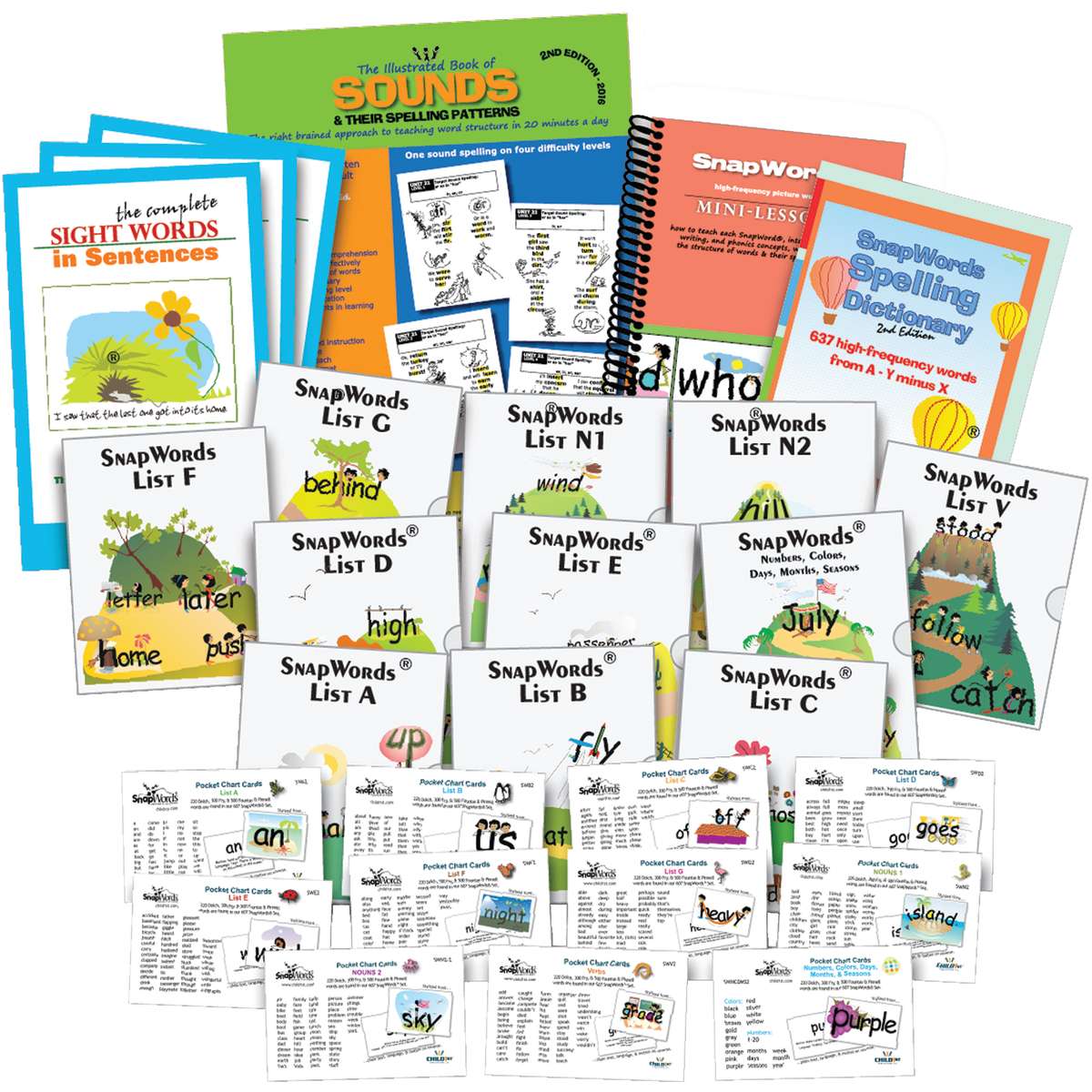 ---
Product Media
SnapWords® Complete Classroom Kit
Do you have students who are falling behind? Missing basic skills such as phonics or spelling? Are they struggling to learn s...
Do you have students who are falling behind? Missing basic skills such as phonics or spelling? Are they struggling to learn sight words? Just working too hard at reading?
SnapWords® Complete Classroom Kit is our most comprehensive sight-words-to-reading collection. This kit was designed by a teacher for teachers and has a track record of bringing students to grade level and beyond. Activities are easy to implement, require no training, and easily fit into your day. Step-by-step instructions and ready-to-use activities make planning time a cinch. Benefits for students include leveling the learning field for all, catching them up on missing skills, bypassing the need to memorize lists of words. Students will also gain the skills needed to decode new, unfamiliar words with confidence.
Focus on Skills:
Sight word acquisition
Reading fluency
Comprehension
Spelling and sound spellings
Phonics
Decoding advanced/unknown words
This Kit includes:
607 SnapWords® Teaching Cards - perfect for initial teaching of each word, including word recognition and word meaning.
607 SnapWords® Pocket Chart Cards - great for independent review and practice activities.
3-pack of the Complete Sight Words in Sentences to provide highly targeted language for children as they practice reading their sight words in real text -children work in pairs to review.
The Illustrated Book of Sounds and Their Spelling Patterns, 2nd Edition for learning phonics and spelling.
SnapWords® Spelling Dictionary, 2nd Edition. A quick reference for teachers. Find each word, its sentence and body motion.
SnapWords® Mini-Lessons - which will tell you exactly what to teach and how to teach each SnapWord® including all aspects of reading.
How does this kit make a teacher's job easier?
Fits easily into your day. Initial instruction takes only 20 minutes.
After introducing new concepts, students have resources to use for independent review.
Students will grow rapidly, taking up less one-on-one time.
Lessons and materials are ready to use and don't require preparation.
Enjoy showing the growth in quantifiable ways to parents.
How do these products make learning easier for students?
Resources that are designed to engage their own learning style will bring success.
Pictures, images, and motions ensure success, increasing their confidence.
Learning will be viewed as fun. Students will be engaged.
Students will learn and will want to learn.
Self-led learning will build their sense of competence.
SnapWords® products are crucial for teaching sight word recognition to students with a wide range of learning styles, including visual learners, those labeled with ADD/ADHD, autism, or dyslexia, and right-brained learners.
No customer reviews for the moment.
Related products
(16 other products in the same category)